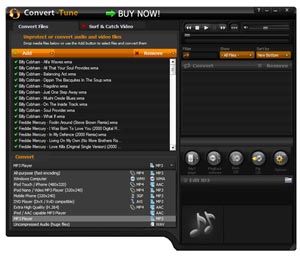 Now all your audio files can be easily transformed to MP3, M4A (AAC), WMA or WAV in seconds. Convert-Tune will also add ID3 tags for artist, album, title names etc absolutely automatically.
Premium and Ultimate editions include FREE CD Ripper to grab audio CD's and FREE CD Burner for burning processed media.
Ultimate edition can convert any video to MP4 (great for iPod), WMV (Windows computer), AVI (great for DVD player) or 3gp (for your cell phone).
Convert-Tune is able to convert purchased media files from all popular stores:
iTunes
MusicNow
Zune
Wal-Mart
MusicMatch
MSNMusic
MusicLoad
MTV / urge
Napster
BuyMusic
AOL Music
Virgin Digital
Sony Connect
Beon Music
iMusica
Bigpond Music
Yahoo Music
AOL MusicNow
Audible
connect-europe
akuma
Listen JP
ongen
hmv
Rhapsody
Soundbuzz
digirama
imusica
fnac
cingular mMode
puretracks
metro tunes
Ultimate edition has a possibility to capture online videos in HD from all most popular web video sharing sites. Then you'll be able to save them without any quality loss, convert and transfer to your iPod. Most of popular streaming and file formats are supported:
Flash Video (HTTP and RTMP)
Windows Media (HTTP, MMS and RTSP)
Real Audio and Real Video (HTTP and RTSP)
MPEG
QuickTime
Streaming MP3 (Shoutcast)
Installing and using Convert-Tune has never been so transparent. The output settings can be set up according to your quality needs. Huge amounts of files can be processed just like 1 file: drag and drop a folder or use the batch mode.
Forget about boring media technical details or hours of conversion; just enjoy any music or video in any format on any device.
Convert-Tune Benefits
Convert-Tune is supersonic and really easy to use. Spend your time listening to favorite tracks instead of conversion routine.
Convert-Tune has many functions while it's really user-friendly.
All the popular output file formats are supported: MP3, MPEG4, CD, iPod, MP3.
Convert-Tune is able to convert ordered audio and video files from all the popular media stores.
You'll be able to enjoy your songs and TV shows from any device: iPod, PC or DVD player.
There are many quality and format settings, which will give you unlimited possibilities.
Convert-Tune preserves ID3 tags for artist, album, title names etc.
Forget about file by file conversion, now you'll be able to use batch mode.


Convert-Tune now for free!


the latest version of Convert-Tune!
Product Updates
Dear Customers! In order to provide you with better quality software experience we now offer paid major updates. This kind of paid major updates concerns new developments, added features that improve/change functionality of the program. Please note that minor program updates are still available for free of charge.
How to distinguish a paid major update from a free minor update?
A major program update has a unique first number in the program version numbers assigned, e.g. SoundTaxi 3.4.8 differs from SoundTaxi 4.4.8, because the latter program version is a major update. A minor update version can be recognized by two numbers that follow the first number in the version name, e.g. SoundTaxi 4.4.8 and SoundTaxi 4.4.9 are minor updates, which are available for free to all customers.